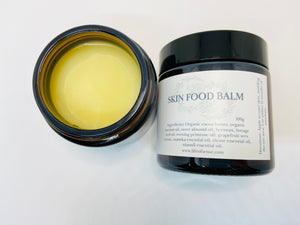 Skin Food Balm
Regular price $40.00 $40.00 Sale
100g 
Our SkinFood Balm is made with Organic cocoa butter, organic coconut oil, sweet almond oil, beeswax, borage seed oil, evening primrose oil, manuka essential oil, thyme essential oil, niaouli essential oil.
These ingredients are known to assist dryness, itchiness, flaky skin, skin elasticity, eczema, psoriasis, dryness, inflammation, damaged skin.
Please Note – this product contains nuts - if you have a nut allergy please let me know as I can substitute almond oil with another oil.  
Cautions: Keep out of reach of children.  Do not ingest.  Apply a test patch to check for any sensitives. Stop using if a sensitivity occurs and consult a health care professional. We do not recommend these oil blends as a replacement for traditional medicine.