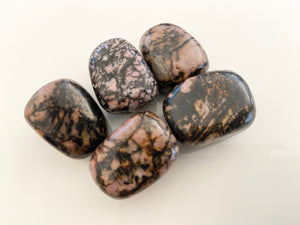 Rhodonite Tumbled Stone
Regular price $3.00 $3.00 Sale
Rhodonite builds confidence and self-esteem.  Lifts energy levels in the body and mind.  Helps with memory.  A calming and soothing stone.  May assist in promoting unconditional love.

Rhodonite is highly recognized as an emotional healer and for bringing one back to center during stressful times. It is a stone that can be used for calming emotional shock and panic, and providing grounded support during the process of dealing with painful issues.
Rhodonite has a strong resonance with forgiveness and giving the body and mind the love it needs in to heal. It gently releases self-destructive tendencies, festering resentments and anger, and allows one to see both sides of an issue to reach conciliation. 
Remember: substituting crystals for professional medical attention is not recommended.  Never use any stone as a replacement for seeing a qualified doctor or medical professional.